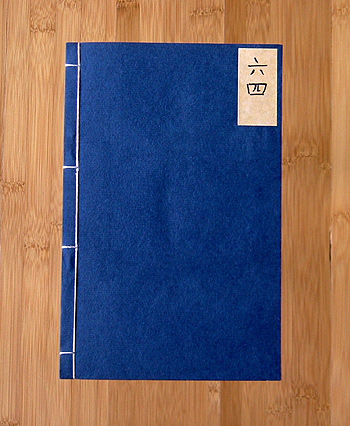 Beijing Heart: A Tiananmen Story
Larry Hanbrook, an American teacher working in Taiwan, was volunteering in Beijing's Tiananmen Square and documented the tensions leading up to the night of June 3, 1989, when the tanks came rumbling.
To mark the ten-year anniversary of the democracy movement in Tiananmen, Ma Nao Books published Larry Hanbrook's eyewitness account of the final days of the student occupation and the logistics and sensibilities of the young revolutionaries.
Edition of 100, 1999, sold out
8 1/2 x 5 1/2 x 1/4 inches, 22 pps
paper, silk thread, indigo cover
ISBN: 978-0-9670264-0-4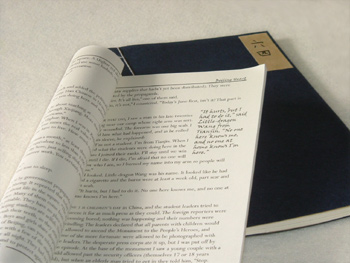 Through sharply observed vignettes — and an unusual layout design that highlights the words of square activists in pullquotes — Beijing Heart delineates the political and personal pressures that weighed on the students and their supporters.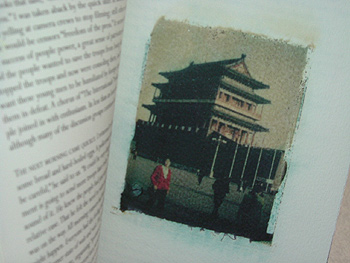 Along with the traditional hand-sewn xian zhuang binding of silk thread and indigo cover, Beijing Heart features three photographic illustrations hand-printed by an experimental image-transfer process and a drawn map of the square, all of which provide visual counterpoint to Hanbrook's account of camping with the students, workers, and Hong Kong activists until the military crackdown.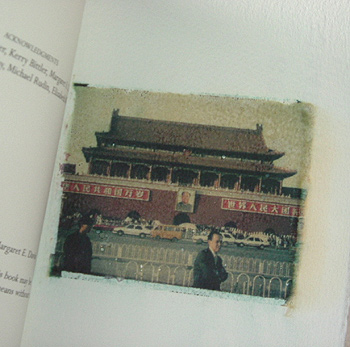 Readers say:
"a beautiful and affecting artist's book" – Scripps College Bulletin
"exquisite" – Mike Miner, Chicago Reader
"The story, the photographs, the binding, the commitment and heart: the book is so honest and true." – Judy Harvey Sahak, librarian
For more about the making of Beijing Heart, see the articles in The Oregonian and the Scripps College Bulletin, in the Press section.