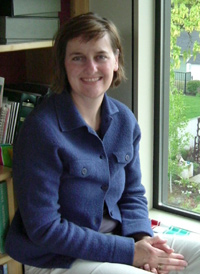 Margaret Davis founded Ma Nao Books in 1995 in Portland, Oregon.
She began her study of book making with a course in letterpress typesetting and printing on a Vandercook proof press at Scripps College.
In 1989 Davis moved to Chicago and became a member of Artists Book Works. She continued studying letterpress printing and bookbinding, producing her first editioned broadside, Slice of Time.
In 1996 Davis won a grant to study bookbinding and related arts in the People's Republic of China. Along with an apprenticeship at the National Library of China, Davis, who speaks Mandarin, visited traditional printers and conservators on travels throughout the country.
On returning to Portland, Davis produced more limited-edition works and began offering presentations and workshops on Chinese bookbinding.
A long-planned project to commemorate the ten-year anniversary of the Tiananmen Square student movement became a reality when the MacDowell Colony offered Davis a residency to complete Beijing Heart: A Tiananmen Story. She also hand-printed the photographic illustrations.
After publishing Bahia Night in 2003, Davis took a hiatus to build a studio in Portland, completed in 2006. For pictures of that project, visit the Bindery.
In 2017 Davis completed China Under the Covers: A Binder's Journey to the Roots of Books, a how-to manual and adventure tale honoring the world's oldest communications device.
For a selected list of works, click here.
Collections
Artists Book Works (now Columbia College Chicago Center for Book & Paper Arts), Chicago
Athenaeum Music & Arts Library, La Jolla, California
Carnegie Mellon University, Hunt Library, Pittsburgh, Pennsylvania
Cerritos Library, California
Denison University, Granville, Ohio
Loomis Chaffee School, Windsor, Connecticut
MacDowell Colony, Peterborough, New Hampshire
Multnomah County Library, Oregon
Oregon Historical Society, Portland, Oregon
Queens College Libraries, City University of New York
Scripps College, Claremont, California
Trinity College, Watkinson Library, Hartford, Connecticut
University of Arizona
Exhibitions
Chinese Dreams (three-person show), ITT Center, Portland, Oregon, 2014
Chinese Dreams (solo show), Northeast Community Center, Portland, 2014
Birds of a Feather (group show), First Unitarian Church of Portland, 2013
Be Steel My Heart: Artspace Marks the 100-Year Anniversary of the Steel Bridge, Ristretto Roasters, Portland, 2012
Third anniversary and member show, Em Space, Portland, 2012
6x6 (group show), Six Days Art, Portland, 2012
Birds of a Feather (group show), Blackfish Gallery, Portland, 2012
Collaboration (group show), Em Space, Portland, 2011
Un-Speak-Able (juried group show), Arts Center, Corvallis, Oregon, 2011
Artspace Out of Bounds (group show), Blackfish Gallery, Portland, 2011
Artspace Meets TaborSpace (group show), Portland, 2009
Art Among Us (group show), Blackbird Wineshop, Portland, 2009
Portland Open Studios, 2008
Alternative Voices: Artists' Books, Comix, and Zines (group show), Trinity College, Watkinson Library, Hartford, Connecticut, 2005-2006
The Hanged Word, La Palabra Cafe-Press, Portland, 2003
Geijutsu-sai juried show, Japanese Garden, Portland, 2000-2003
Handmade Holiday, with paper-maker Helen Hiebert, Portland, 2000 & 2001
Powell's City of Books, Portland, 1999
China: Where Books Began, Portland Art Museum, 1998
Workshops & presentations
China Under the Covers signing and talk on book history, 23 Sandy Gallery, Portland, Oregon, 2017
Chinese bookbinding (lecture), Warner Pacific College, Portland, 2013, 2015-2018
Incipit Nova Via travel journal workshop for Scripps College Founder's Day, Portland, 2012
PDX Skillshare, Northeast Community Center, Portland, 2011
Letterpress workshop, Scripps College, 2010
Chinese bookbinding, Oregon College of Art & Craft, Portland, 2000, 2001 & 2009
Chinese bookbinding, San Francisco Center for the Book, 2000 & 2001
Open studio presentation, MacDowell Colony, Adams Studio, 1999
China: Where Books Began (lecture), Portland Art Museum, 1998

Publishing experience
Bookbinding workshop, Scripps College, Claremont, California, 2018
Author, China Under the Covers: A Binder's Journey to the Roots of Books (Ma Nao Books, 2017)
Copy editor, To Win the Indian Heart: Music at Chemawa Indian School, by Melissa D. Parkhurst (Oregon State University Press, 2014)
Bluebook copy editor, Aviation Regulations in the United States and Third Party Liability (American Bar Association/Lachina Publishing, 2013-2014)
Editor, Inseparable: The Memoirs of an American and the Story of Chinese Punk Rock, by David O'Dell (2011)
Editor, Sexo Puro: A Life in Brazilian Song, by Suely Mesquita & Bob Gaulke (Verse Chorus Press, 2010)
Copy editor, Portland Tribune, 2001-2008
Editor, Stoel Rives LLP, 1998-2001 & 2015-2018
Proofreader and copy editor, Tin House and Tin House Books, 2000-2009
Editor and writer, Outside Guide to Extreme Sports for Kids, 1997-1998
Editor, Beijing Wine & Dine Guidebook (Scene International, 1997)
Editor and writer, Beijing Scene, China, 1997
Writer, Outside, Utne Reader, Rocket, Puncture, and Chicago Reader, 1994-1998
Web assistant, Puncture, Portland, 1995-1996
Assistant editor, Chicago Reader, 1992-1993
Fact checker and proofreader, Out of the Noösphere—Adventure, Sports, Travel, and the Environment: The Best of Outside Magazine (Simon & Schuster, 1992)
Assistant editor and editorial intern, Outside, Chicago, 1989-1992
Designer, West Coast Paper Co., Seattle, 1989

Education
Apprenticeship at the National Library of China, Beijing, 1996
Scripps College, Claremont, California, B.A. in English and philosophy, studio art minor
University of Bristol, UK, literature and philosophy, 1987-1988
Courses and workshops at Oregon College of Art & Craft, Chicago's Artists Book Works, and the Columbia College Chicago Center for Book & Paper Arts, 1989-2008

Gallery representation
Vamp & Tramp Booksellers/Califia Books
Awards & honors
Durfee fellow, People's Republic of China (1996); MacDowell Colony fellow, Peterborough, New Hampshire (1999); first- and third-place awards for headlines by Society of Professional Journalists, Greater Oregon chapter (2006, 2007 & 2008)